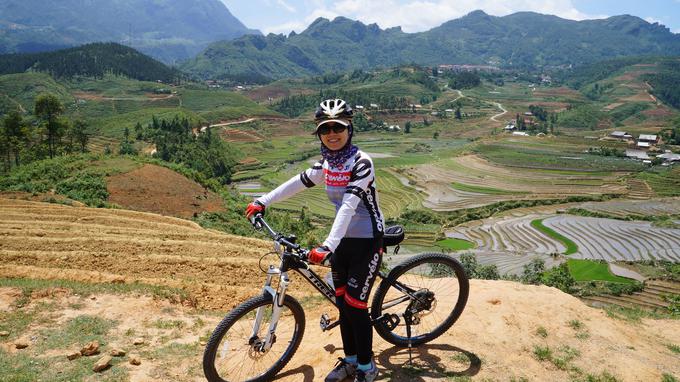 Sometimes, Khanh Ly misses the slow pace and quietness of Hue, her hometown in the center of Vietnam, but it's been already 11 years since she first arrived to Ho Chi Minh City as a student of Economics. After finishing her degree, she worked in a bank for three years as a client service representative, a work where she learned a lot of skills that she can use now as a manager of Vietnambiketours in Ho Chi Minh City. "I learned a lot from the bank, I had to deal with clients and ensure that the products and services we offered satisfied them. I got used to dealing with clients, but after three years I felt the job was the same everyday and I couldn't reject the opportunity to work for Vietnambiketours in 2011. It could allow me to practice my English and use my knowledge in the tourism sector, which I had always been interested in. And working in this company also allows me to know more about my country, about the culture in different regions", she says.
Four years later and having become a manager since last March, Khanh Ly knows she made the right decision. In March she became the manager of the company in Saigon, after four years taking care of the client service. She is mild mannered, and sometimes looks shy, but she is a very determined person, willing to consolidate Vietnambiketours as the best bike tour company in Vietnam: "When people think about a bike tour company or seek a bike tour in Vietnam and Indochina, they will think of us first", she says.
One of her biggest qualities is her will to always learn more, specially from the customers, who can giver her clues about how to improve the service. "When they tell me everything is good, I feel very happy, but when they find something could be improved it is also good because they give us ideas. For example, some customers were having problems because the saddle was too hard and some tourists are not so used to cycle for a long time, so now we offer bikes with softer saddles".
Another part she wants to improve is checking the roads more often before the tours, because construction works are frequent in Vietnam and she wants to avoid problems or inconvenience for the tourists. Ly can relate very well with the cycling tourists, because she is herself a cycling lover. She usually cycles in the evening along the Nhieu Loc canal in Saigon and she often joins the Sunday Bike Ride. Besides, she has experienced herself how it is to be on a cycling tour, and not exactly an easy one: 6 days across the North Western mountains of Vietnam, from Sapa to Dien Bien Phu. She remembers it as a great experience, although it was very tough because she didn't have time to train for such a difficult ride. "We went during the month of May and it was very hot. That made it more difficult, but it was a great experience". Now, she will have to stop her cycling passion for a while, but it's for a very good reason: she is expecting her first baby.